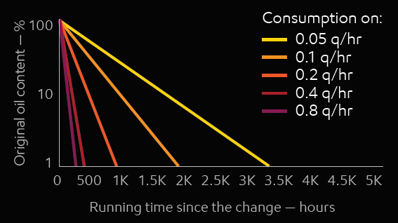 Our recommendations for changing engine oil brands
Conversion by top-off allows the original oil to be gradually phased out and replaced by the new oil. The chart below illustrates phase out rate based on several factors: the vertical axis, knowing the engine oil consumption, hours the engine operated during the top-off period and system capacity (quarts). On the link below you can find more information.
By converting to ExxonMobil Aviation products you can:
Avoid premature and unscheduled engine repairs
Minimize oil leaks, reducing delays, cancellations and costly repairs
Maximizes revenue-generating hours through protection, stability and control
Operates with low-temperature fluidity in climates as low as -40°C
As an Authorized distributor of ExxonMobil Aviation Lubricants, we are pleased to provide you both business and technical support crucial for your company. Aviolubes connects the power and flexibility of a family-owned company (since 1929) with the know-how of all automotive, heavy duty, marine, industrial and aviation ExxonMobil solutions and experience of world's biggest player, ExxonMobil.