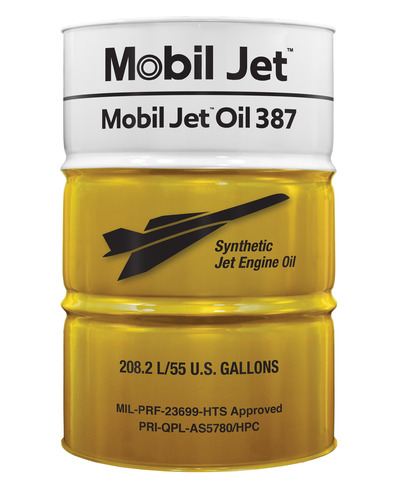 Introducing Mobil Jet Oil 387... striking the perfect balance to deliver unsurpassed performance.
Mobil Jet Oil 387 is the most advanced jet engine oil we have ever developed—specifically designed for today's and tomorrow's engine technologies. Formulated to deliver exceptional elastomer compatibility, superior thermal and oxidation stability and advanced deposit control—a balance that has never before been achieved with a turbine oil.
ExxonMobil's relentless pursuit of innovation and technology leadership is demonstrated in this next-generation, High Performance Capability (HPC) engine oil. Proactively developed to respond to the evolving needs of our customers and the industry, Mobil Jet Oil 387 is raising the bar in jet engine lubrication. Mobil Jet Oil 387 has been approved for use with many engine manufacturers for a wide range of engine models and components.
At the heart of its formulation, Mobil Jet Oil 387 features a package of custom-made esters and internally developed special additives, specifically designed to provide advanced engine protection and optimize engine performance.
Mobil Jet™ Oil 387 underwent 10+ years of extensive research and development and is one of the most tested oils on the market. It was subjected to rigorous testing on the ground and in flight, and was designed with custom-made molecules to deliver outstanding performance in HTS/HPC oils.
Reasons to trust Mobil Jet Oil 387
Designed to deliver optimal engine performance and help operators avoid unscheduled/premature engine maintenance
Offers exceptional elastomer compatibility, helping minimize oil leaks that can cause delays, cancellations and costly repairs
Provides optimal wear protection, oxidative and thermal stability, and excellent deposit control, helping operators reduce unscheduled maintenance and maximize revenue-generating hours
Offers excellent low-temperature fluidity in extreme temperatures as low as -40 degrees Fahrenheit
Here you can find the latest version of the technical datasheet
Here you can find the latest version of the safety datasheet