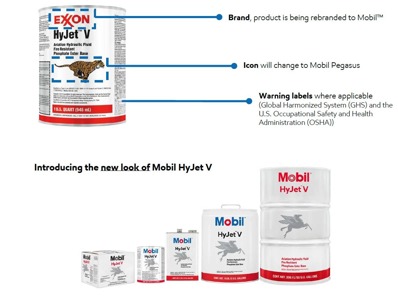 New Look for HyJet!
We are pleased to announce that our Exxon HyJet products are getting a new look! Exxon HyJet V and Exxon HyJet IV-A plus are being rebranded under the world-renowned Mobil brand. These limited changes to our HyJet lubricants will only impact the names, labeling and associated packaging - rest assured the HyJet formulations, industry/OEM approvals and performance quality will remain unchanged.
Our goal with this communication is to provide you with advance notice of upcoming changes and to clearly articulate the extent of the change you can expect to see in the comings months:
- Exxon HyJet V will be rebranded to Mobil HyJet V
- Exxon HyJet IV-A plus will be rebranded to Mobil HyJet IV-A plus
- Changes will apply to all styles: quarts, gallons, cartons & drums
- Where applicable, updates are being made to ensure compliance with labeling requirements under the Global Harmonized System (GHS) and the U.S. Occupational Safety and Health Administration (OSHA).
While Mobil HyJet products will have a new look, there will be no changes to product formulations or approvals - Mobil HyJet V and Mobil HyJet IV-A plus will continue to provide the exceptional protection and performance they were designed to offer.
As an Authorized distributor of ExxonMobil Aviation Lubricants, we are pleased to provide you both business and technical support crucial for your company. Aviolubes connects the power and flexibility of a family-owned company (since 1929) with the know-how of all automotive, heavy duty, marine, industrial and aviation ExxonMobil solutions and experience of world's biggest player, ExxonMobil.