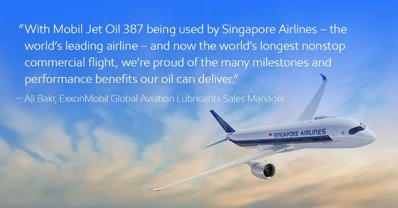 Mobil Jet™ Oil 387 Used in World's Longest Nonstop Flight Route
SPRING, Texas – ExxonMobil announced today that Mobil Jet™ Oil 387, a synthetic High Performance Capability (HPC) turbine engine oil, was used in Singapore Airlines' nonstop flight between Singapore and Newark Liberty International Airport. The newly reinstated 18 hour, 45 minute flight is the longest nonstop commercial flight in the world.
Recently named the world's best airline by London-based research firm Skytrax, Singapore Airlines uses Mobil Jet Oil 387 across its entire fleet, including in Airbus' newest A350-900ULR aircraft used for the nonstop flight. Singapore Airlines previously served the Singapore-Newark route until 2013, when services were suspended.
"ExxonMobil has supported some of the most notable accomplishments in the aviation industry for more than 100 years," said Ali Bakr, global aviation lubricants sales manager at ExxonMobil. "With Mobil Jet Oil 387 being used by Singapore Airlines – the world's leading airline – and now the world's longest nonstop commercial flight, we're proud of the many milestones and performance benefits our oil can deliver."
Created entirely by ExxonMobil lubricant formulators, Mobil Jet Oil 387 features custom-made esters and unique additives that help deliver a combination of benefits that have never before been achieved with an HTS/HPC turbine oil.
Since being introduced in late 2012, airlines and leading equipment manufacturers have seen how Mobil Jet Oil 387 can deliver outstanding deposit control, oxidative stability and seal compatibility. These key benefits help ensure that Mobil Jet Oil 387 meets the performance requirements for current and future turbine engine technologies, making it an ideal lubricant choice for carriers such as Singapore Airlines.
Today, Mobil Jet Oil 387 has accrued more than three million hours of on-wing performance, and protects more than 250 aircraft from carriers around the world.
Approved for use in a wide range of engines and components, Mobil Jet Oil 387 meets demanding industry specifications, including SAE AS5780 High Performance Capability and U.S. Military Specification MIL-PRF-23699-HTS.
Aviolubes can offer you an excellent availability of the products and in consequence a delivery at short notice as a result of our huge stock. A warehouse with over 2.5 million liters bulk storage capacity, more than 15 000 m2 pallet spaces and our own distribution network. These advantages assure you our high-quality ExxonMobil-products reach you fast and in a perfect way.
As an Authorized distributor of ExxonMobil Aviation Lubricants, we are pleased to provide you both business and technical support crucial for your company. Aviolubes connects the power and flexibility of a family-owned company (since 1929) with the know-how of all automotive, heavy duty, marine, industrial and aviation ExxonMobil solutions and experience of world's biggest player, ExxonMobil.
Feel free to contact us to know more about the benefits from Aviolubes and our ExxonMobil Aviation Lubricants.