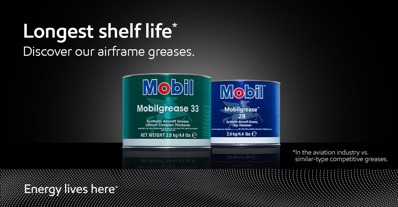 ExxonMobil Airframe Greases Offer the Longest Shelf Life in the Industry
ExxonMobil today announced the shelf life of its aviation airframe greases, MobilGrease 33 and MobilGrease 28, has been extended to 10 years, an increase of four years. Intesive laboratory testing indicated that both greases can maintain their properties and performance benefits for up to a decade.
With this extended shelf life, ExxonMobil continues to offer the airframe greases with the longest shelf life in the industry. MobilGrease 33 and MobilGrease 28 serve as high-quality solutions that help aircraft operators minimize waste and reduce inventory carrying costs.
Trusted by the aviation industry for more than 50 years, MobilGrease 28 provides excellent protection under heavy-load applications and resists deterioration when exposed to wide-ranging temperatures. Equally valued within the global aviation community, MobilGrease 33 is an ester-free formulation that effectively protects against the deteriorating effects of hydrolysis and provides airlines exceptional performance at extemely low temperatures and wet environments.
"MobilGrease 33 and MobilGrease 28 are proven to provide excellent performance, even after sitting on a shelf for 10 years, which is a true testament to our quality of products," said Vipin Rana, global aviation lubricants sales manager at ExxonMobil. "By offering airlines numerous performance benefits and longevity, our trusted airframe greases are ideal solutions that help minimize waste, desterioration and maintenance repairs, helping our valued customers enjoy cost savings in the air and in storage."
In addition to using high-quality greases with a long shelf life, adhering to best practices for storage and handling can help ensure products do not deteriorate or become contaminated. ExxonMobil suggests the following key tips:
- Store grease indoors and ensure designated location is clean, dry and in a temperature-controlled environment.
- Place older stock in the front to reduce potential for using products beyond recommend shelf life.
- Wear appropriate personal protective euqipment, such as gloves and eye protection, when handling grease.
- Review the Material Safety Data Sheet to understand chemicals used and the appropriate safety recommendations and precautions.
As an Authorized distributor of ExxonMobil Aviation Lubricants, we are pleased to provide you both business and technical support crucial for your company. Aviolubes connects the power and flexibility of a family-owned company (since 1929) with the know-how of all automotive, heavy duty, marine, industrial and aviation ExxonMobil solutions and experience of world's biggest player, ExxonMobil.