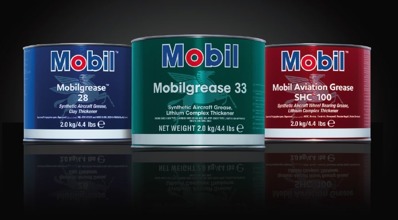 Aviation Week: ExxonMobil Grease Demos At MRO Americas 2018
What happens when aviation greases are subjected to water contamination, extreme heat and 500 kilograms of pressure? Watch ExxonMobil Global Grease Product Technical Advisor Gary Dudley show how our greases performed against the competition in this video from MRO Network.
1) Testing @ 70°C
Simulates how greases will react to water in a standard operating environment:
After two weeks, competitor grease tested shows degradation and breakdown - while MobilGrease 33 remains unchanged.
Testing clearly demonstrates how the presence of water can adversely affect competitor grease's integrity and performance.
MobilGrease 33 provides exceptional performance and the ability to maintain structural stability in the presence of water
2) Testing @ 121°C
Test simulates accelerated aging of greases to clearly demonstrate changes in the compositional integrity of greases in the presence of water
As early as Day 1, the competitor grease begins to show signs of degradation and breakdown.
Day 2, testing indicates continued degradation as odors become more prominent.
While competitor grease turns black and has compositional integrity concerns, MobilGrease 33 continues to maintain its compositional integrity and performance.
SSH&E implications for implications of BMS 3-33 greases, MobilGrease 33 versus competitor grease:
No hazardous classification
No hazardous components
No skin sensitization warnings
As an Authorized distributor of ExxonMobil Aviation Lubricants, we are pleased to provide you both business and technical support crucial for your company. Aviolubes connects the power and flexibility of a family-owned company (since 1929) with the know-how of all automotive, heavy duty, marine, industrial and aviation ExxonMobil solutions and experience of world's biggest player, ExxonMobil.