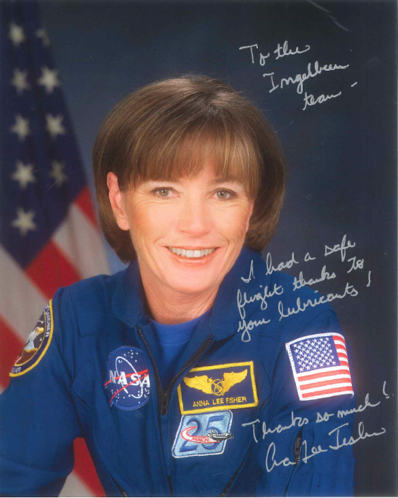 Astronaut Anna Fisher: The First Mom in Space had a safe flight thanks to our lubricants
Astronaut Anna Lee Fisher completed many different assignments once her training ended. She was active as a crew representative for both support development and testing of the Remote Manipulator System (RMS) and payload bay door contingency spacewalk procedures, the extra-small Extravehicular Mobility Unit (EMU) and contingency in-orbit Thermal Protection System (TPS) repair hardware and procedures and more for pre-STS-1 through STS-4. She also worked as crew evaluator for verification and development testing for STS-2,3 and 4.
Launched into Space
Astronaut Anna Fisher launched into space on the space shuttle Discovery on Nov. 8, 1984 to become NASA's first mom in space. The mission, seen launching here, was STS-51A and was crewed by Fisher, commander Frederick Hauck, pilot David Walker and mission specialist Dale Gardner and Joseph Allen. The mission deployed the Canadian satellite Telesat-H and the U.S. defense communications satellite SYNCOM IV-I. The astronauts also retrieved two malfunctioning satellites during their mission.
source: www.space.com