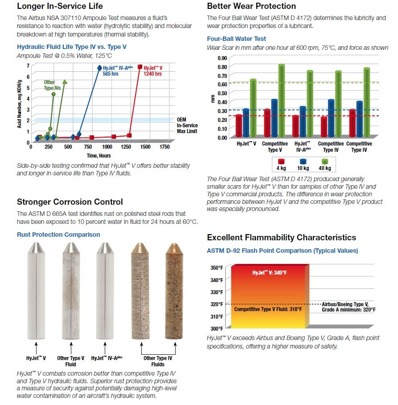 Advantages of HyJet IV-A Plus over Skydrol LD4
HyJet IV-A Plus has demonstrated superior behavior over LD-4.
These are:
1. Erosion protection
2. Acid control
3. Rust protection
4. Low Density
In conclusion:
- HyJet IV-A plus is a proven performer:
1. Continuing to provide low maintenance and trouble-free operation to commercial aicraft hydraulic systems
2. Field experience confirms excellent wear, deposit, and erosion control
- Offers longer life than competitive Type IV Fluids by Airbus NSA307110 ampoule test procedure
1. Excellent acid control performance confirmed by field samples from Airbus and Boeing Aircraft
- Offers lower density and rust protection advantages over competitive Type IV fluids
As an Authorized distributor of ExxonMobil Aviation Lubricants, we are pleased to provide you both business and technical support crucial for your company. Aviolubes connects the power and flexibility of a family-owned company (since 1929) with the know-how of all automotive, heavy duty, marine, industrial and aviation ExxonMobil solutions and experience of world's biggest player, ExxonMobil.