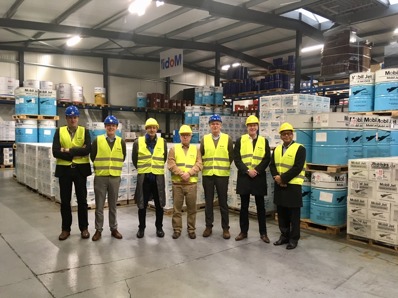 Ready for 2018!
Ingelbeen-Soete / Aviolubes received the visit of the senior ExxonMobil Aviation management in order to continue the growing expansion of Aviolubes.
Aviolubes can offer you an excellent availability of the products and in consequence a delivery at short notice as a result of our huge stock. A warehouse with over 2.5 million liters bulk storage capacity, more than 15 000 m2 pallet spaces and our own distribution network. These advantages assure you our high-quality ExxonMobil-products reach you fast and in a perfect way.
As an Authorized distributor of ExxonMobil Aviation Lubricants, we are pleased to provide you both business and technical support crucial for your company. Aviolubes connects the power and flexibility of a family-owned company (since 1929) with the know-how of all automotive, heavy duty, marine, industrial and aviation ExxonMobil solutions and experience of world's biggest player, ExxonMobil.
Feel free to contact us to know more about the benefits from Aviolubes and our ExxonMobil Aviation Lubricants.
Aviolubes wishes everybody all the best for 2018!